교통사고 부상 중에 두경부가 30%로 가장 흔하게 발생하는데, 이는 충돌 시 가속-감속의 힘이 목으로 전달되는 기전에 의해서 발생합니다. 교통사고로 인해 발생되는 충격에 의한 목의 임상적인 문제들을 편타성 손상장애(Whiplash-Associated Disorders)라고 합니다.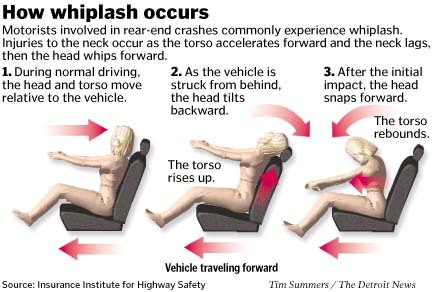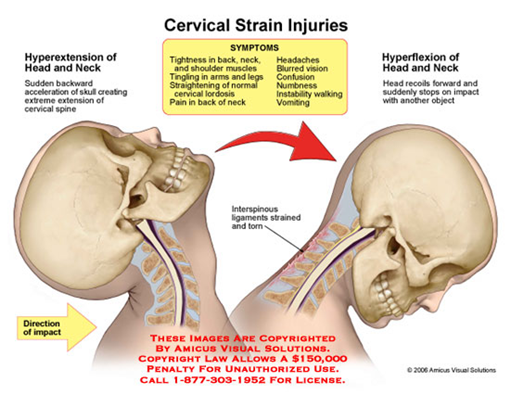 편타성 손상 환자들은 대부분 목의 통증과 두통, 경추의 운동성 감소 등의 증상을 나타냅니다. 주로 충돌당시 과도한 힘의 영향으로 근골격계의 문제들이 나타나는데 근육과 인대 등의 연부조직의 손상, C1-C2의 척추돌기관절 손상에 의한 두통, 척추기립근의 경련에 의한 목의 연관통 등이 나타나고, 시야흐림, 어지럼증, 현기증, 이명 등도 나타날 수 있습니다.
편타성 손상으로 인한 증상과 장애가 6개월 이상 지속되면 만성 편타성 손상장애(Chronic WAD)라고 하는데, 다시 건강한 생활로 회복하고 유지하는데 큰 어려움을 갖게 됩니다. 따라서 초기의 적극적인 치료가 매우 필요하다고 할 수 있습니다.

(출처: Laura Jensen. Tips for performing a physical examination of the neck in whiplash-associated disorders. BCMJ 51(2):2009;60-61)
저희 녹원명문한의원에서는 자동차보험 치료가 가능하며, 교통사고 후에 발생한 근육통, 염좌, 저림, 두통 등 다양한 증상에 대하여, 첩약(한약)을 포함한 침, 뜸, 부항, 추나요법, 한방물리요법 등의 제반 치료가 가능합니다. 사건접수번호와 전화번호만 말씀해주시면 한의원과 자동차보험 회사에서 알아서 처리해드리기 때문에 걱정하시지 말고 내원해주세요! 교통사고는 초기 치료가 중요합니다.
참고문헌: 한방재활의학 3판(군자출판사)